How To Become A Freemason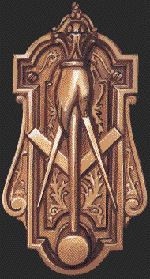 A chapter from "Fact Not Fiction"
by Worshipful Brother Joe Granger
It is presumed that most men who may be interested in becoming a member of our Fraternity will have developed their interest through knowing a Mason, perhaps a friend, relative or business colleague.
If not, then it is really essential that they take steps to be introduced to a known Freemason, and in such cases it will probably be many months before any further move can be contemplated.
It is not just the knowing, it is more a question of the 'depth' of knowledge by the Mason of the character and principles of his friend. Presuming a Mason is known well, then all the interested party has to do is tell him of his interest, and ask if he can help him; it's as easy as that.
Sometimes an opportunity arises at a ladies' evening or other social Masonic occasion; but enquiry will be welcomed, certainly no offence be taken, and a variety of action on the following lines will probably follow, although some lodges may be less formal in their handling of the application. The Freemason will ask his friend to put his request in a brief written note, which will be brought to notice at the lodge's next Officers' Meeting and, if acceptable, he will give his friend preliminary forms for him to complete.
Apart from obvious name and address details etc., the 'candidate' will be asked to provide the names and addresses of references, of which two should be Freemasons. The candidate may need help from his Masonic friend in this respect, as the latter cannot himself be a referee.
The preliminary form is then presented at the next Officers' Meeting and, if all is satisfactory, letters will be sent to the referees asking their opinions in confidence of the candidate. Nothing further can proceed until all replies are received; then, if all are favourable, the next step can go ahead. The candidate is given further forms to complete, in much more detail. The Grand Lodge proposal form requires details of the candidate's employment, or business, and includes a declaration that he has not previously applied for, nor been refused membership of any other Masonic lodge; also. that he has not been convicted of any infringements of the law (other than minor traffic offences).
At the same time a `visiting comnuttee' is appointed, usually composed of two experienced past masters of the lodge who will, if all preliminary formalities are satisfactory, contact the candidate and arrange to meet him at his home and, if possible, at a time when his wife will also be available to meet them. The `committee' talk informally with the candidate, giving some indication of what is in store, and getting from him indications of what he knows, and what he expects from the Craft.
They will also have a talk with his wife, possibly alone, and satisfy themselves that she is quite happy about her husband's application to join the Craft, and that she does understand and agree with the commitments, both in terms of finance and time. If necessary the committee may give them together some of the information referred to in the previous chapter, although this should have been provided by the Proposer much earlier in the proceedings.
The visiting committee reports back to the Lodge and, if all is satisfactory, the application becomes formal. The Proposer and Seconder make a formal proposition at a Lodge meeting in accordance with notice printed in the Lodge Summons; then at the next meeting a ballot of members takes place and, if found in favour, the candidate is formally elected. Initiation can follow at any regular meeting within twelve months.
All this presumes no hitch in the proceedings, but should any cause for dissatisfaction arise then the proceedings could be delayed and, in event of problems proving insurmountable, then the worst might occur and the application be refused. This, of course, would be most embarrassing to all concerned, not least the Proposer, and really the responsibility for ensuring it cannot occur lies with him.
It is his knowledge of the candidate that should prevent an application getting beyond the earliest stage; it is therefore essential that he should have very thorough and intimate knowledge of his friend before allowing matters to proceed to any formal extent. A person who is refused at a late stage is bound to feel resentment, and that does no good for Freemasonry, no matter how justified.
As the time for initiation nears, the proposer will advise his friend in respect to dress and payments for fees etc.; usually the Lodge secretary writes advising the candidate formally of his coming entry, inviting him to attend, timing etc., but the Proposer should still take the lead in ensuring all is arranged properly.
He may collect and take the candidate with him to Lodge, introducing him as necessary to the Master, Secretary and Tyler, and will leave him to the tender mercies of the latter, from which point the candidate simply does as he is told.
After the ceremony the Candidate usually receives special treatment. He is now a member of one of the greatest societies for good in the world.

All rights reserved